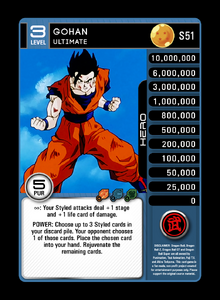 Card Type Edit
Limit per Deck Edit
1
Namekian, Earthling, Saiyan
Original Text Edit
CONSTANT POWER: Your Styled attacks deal +1 stage and +1 life card of damage.
POWER: Choose up to 3 Styled cards in your discard pile. Your opponent chooses 1 of those cards. Place the chosen card in your hand. Rejuvenate the remaining cards.
Erratum Text Edit
None
Official Clarifications Edit
None.
Community Clarifications Edit
None
Game Rules Links Edit
To be added