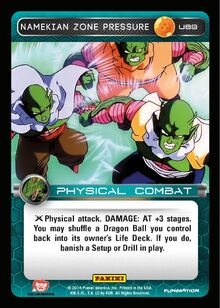 Card Type
Edit
Limit Per Deck
Edit
3
Original Text
Edit
Physical attack. DAMAGE: AT +3 stages. You may shuffle a Dragon Ball you control back into its owner's Life Deck. If you do, banish a Setup or Drill in play.
Erratum Text
Edit
None
Official Clarifications
Edit
If you use Namekian Zone Pressure's "banish a Setup or Drill" effect and your opponent does not control any Setups or Drills, you must banish one that you control.
Community Clarifications
Edit
None
Game Rules Links
Edit
To be added
Community content is available under
CC-BY-SA
unless otherwise noted.