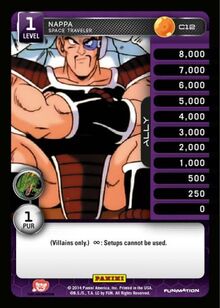 Card Type
Edit
Limit Per Deck
Edit
1
Saiyan
Original Text
Edit
(Villains only.) CONSTANT: Setups cannot be used.
Erratum Text
Edit
None
Official Clarifications
Edit
If Nappa enters play due to the effects of a Setup, that Setup will finish resolving its effects even after Nappa becomes active (e.g. if you use Blue Battle Readiness to search your Life Deck for Nappa and place him into play, you would still get to search your discard pile for an ally as well). [source]
Community Clarifications
Edit
Nappa's CONSTANT effect prevents the owner of Nappa from using their Setups, as well as, their opponent.
Game Rules Links
Edit
To be added