Card Type
Edit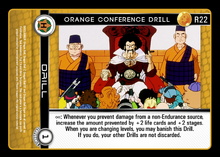 Limit Per Deck
Edit
3
Original Text
Edit
ENDURANCE 1.
CONSTANT: Whenever you prevent damage from a non-Endurance source, increase the amount prevented by +2 life cards and +2 stages. When you are changing levels, you may banish this Drill. If you do, your other Drills are not discarded.
Erratum Text
Edit
None
Official Clarifications
Edit
Orange Conference Drill increases the amount prevented by a non-Endurance prevention effect regardless of the type of damage being dealt. (e.g. You play Orange Quick Dodge, then later that combat your opponent plays Red Static Shot. With Conference Drill in play, Quick Dodge will prevent 3 stages and 2 life cards of damage whether or not Static Shot is actually dealing any stages of damage.)
Community Clarifications
Edit
None
Game Rules Links
Edit
To be added
Community content is available under
CC-BY-SA
unless otherwise noted.