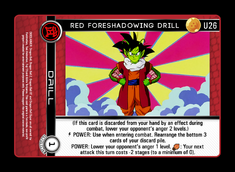 Card Type
Edit
Limit Per Deck
Edit
3
Original Text
Edit
ENDURANCE 1.
(If this card is discarded from your hand by an effect during combat., lower your opponent's anger 2 levels.)
INSTANT POWER: Use when entering combat. Rearrange the bottom 3 cards of your discard pile.
POWER: Lower your opponent's anger 1 level.
Namekian: Your next attack this combat costs -2 stages (to a minimum of 0).
Erratum Text
Edit
None
Official Clarifications
Edit
None
Community Clarifications
Edit
None
Game Rules Links
Edit
To be added
Community content is available under
CC-BY-SA
unless otherwise noted.