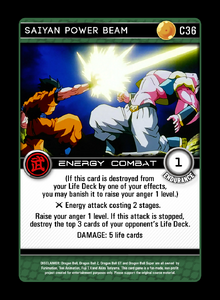 Card Type
Edit
Limit per Deck
Edit
3
Original Text
Edit
ENDURANCE 1.
(If this card is destroyed from your Life deck by one of your effects, you may banish it to raise your anger 1 level.)
Energy attack costing 2 stages.
Raise your anger 1 level. If this attack is stopped destroy the top 3 cards of your opponent's Life Deck.
DAMAGE: 5 life cards.
Erratum Text
Edit
None
Official Clarifications
Edit
None
Community Clarifications
Edit
None
Game Rules Links
Edit
To be added